With only 6 weeks to go to the 14th May deadline there is no sign of a new place. We arranged for an email to be sent out to the
Transcoco
contacts list (with thanks to Sue) and got a response from a local storage firm. The fact that we got something straight away was encouraging and the offer of a small lockup was appreciated however the site would not be accessible at the weekend.
I investigated a garage that was for sale however the location and state were far from being ideal. So for options:
We could find a quite shed/garage/lockup somewhere and do some interesting bike projects. We would advertise and the very keen would seek us out. We would not be in Corsham.
We arrange to have a market stall every Saturday in the centre of Corsham with a lockup close by. We would use 'loadie' bikes to transport the spares/bikes/gazebo/kit etc.
We would deploy a 'pop-up' bike shop around Corsham school/Springfield centre area. Again 'loadie bikes would be used to transport the kit.
Options (2) and (3) seem to entail a lot of set up and set down time which is frustrating. Also the range of repairs would be limited without access to a workbench wheel jig etc. Option (1) is tempting as it would provide the opportunity to learn how to braze or weld with the option of building better trailers and other bike related devices.
It's a shame that we haven't got a place as I think Corsham needs more bike journeys and fewer cars and parking spaces. I notice that the space in front of the Corsham court gates are now No Parking with just about the most ugliest signs that could possibly be imagined being used. Well done some tier of local government.
The Historic Gates to Corsham Court are now a fetching No Parking Sign
The Guardian have also
reported
that cycle take up is not as strong in the rural areas as it is in the cities. Will the 600 students who destined to make their way to Harthem (on Harthem Lane) each week contribute to the scary prospect of carmageddon occurring in Corsham. When the old community centre is demolished it will make way for.. you guest it, a car park.
It does not have to be like that...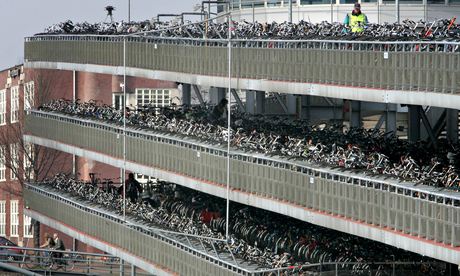 A bicycle park in Amsterdam. Forecasts that the UK would soon become a nation of cyclists, much like the Netherlands, have proved wildly optimistic, with lack of cycling infrastructure partly blamed. Photograph: Peter Dejong/AP